Realistic Dolls House Exterior Finishes
Easily Create Beautiful Realistic Brick, Stone and Roof Tile Effects
<% explicitid=1 %>
Creating Authentic Dolls House Exterior Finishes
with Realistic Brick Compound & Stencils
Realistic Brick Compound is used to create very authentic brick and stone effects on dolls houses and models. It is quick and easy to apply using the wide range of stencils available to produce the chosen brick or stone pattern. The texture and colour of the compound makes the finished result very realistic indeed and it feels as real as it looks. Take a look at the Photo Gallery.
To apply the compound it is simply mixed with water to form a smooth easily spreadable paste consistency. This is then applied directly to the model over the stencil using a pallet knife or similar. It is an air drying material and allows unlimited working time (just add more water as necessary or cover to prevent drying). As the compound dries it will set hard, but if necessary it can be removed by re-wetting and wiping clean so there's no need to worry if you make a mistake and waste is kept to a minimum.
When completed the finish should be sealed with a clear matt varnish, this will protect and waterproof it making it permanent, and it will also enhance the finished colour. If desired, the finish can be shaded using acrylic paints prior to sealing to create an even more authentic and unique effect. Full instructions are suipplied with the product, also there are application guides on this website.
'The quickest and easiest way to produce authentic looking brick and stone finishes' (Customers Comments)
'Looks better than Brick Slips! ...and at a fraction of the price!' (Customers Comments)
'I really enjoyed using the product and I'm so pleased with the finished result ..Fantastic!' (Customers Comments)
Basic Application Guide
Mix some Realistic Brick Compound with water and position the stencil on the wall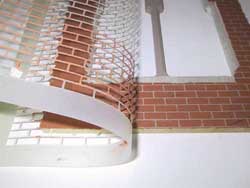 Spread the Realistic Brick Compound over the wall using a pallet knife and then remove the stencil to reveal the bricks
Click Here to see demonstration video
Before and after photos showing a typical dolls house kit
Click Here to see detailed application guide
Dolls House Magazine Features
Our products are regularly featured in various dolls house magazines.
To see some past features click here.
Still Have Questions - See our FAQ's Page or Contact Us