Making Your Own Dolls House Furniture
The dolls house hobby appeals to both collectors and makers, and most people probably fit somewhere between the two. Furniture for dolls houses is one area of the hobby which caters for all preferences with everything from budget-priced furniture to heirloom quality finished pieces and furniture kits, plans and materials for those wishing to make their own furniture from scratch. Making your own dolls house furniture can be very rewarding, with the finished pieces being truly unique and often far superior compared to the mass-produced alternative.
Unfinished Wood Furniture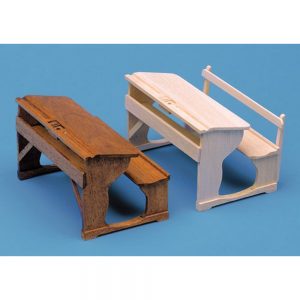 Unfinished wood furniture is a popular option and appeals to those who want to create unique furniture pieces without the need to make from scratch. A wide range of unfinished wood furniture is available to buy at very competitive prices making this a relatively economical way to furnish a dolls house. Budget priced finished furniture is often let down by a budget quality finish so buying unfinished furniture at a similar cost and finishing to a higher standard yourself can be very advantageous. The furniture is of good quality and can be finished relatively quickly and easily using your choice of paint, wood stain, varnish, wax polish etc.
Furniture Kits
Furniture kits provide an easy way to make your own dolls house furniture more easily than making from scratch. They typically include all pre-cut wood parts needed and assembly instructions. These kits make an enjoyable and fairly easy mini project and generally You don't generally need any additional materials or tools apart from PVA adhesive, sandpaper and your chosen finishing materials.
Making Your Own Furniture From Scratch
It is easier than you may think to make dolls house furniture from scratch. There are numerous tutorials on Youtube and online blogs etc to inspire you and the availability of prepared timber supplied in convenient sizes for miniature furniture is a very helpful Common timber types include Basswood, Obeche, Mahogany and Walnut. Basswood is the easiest material to work with as it has a fine and consistent grain pattern and is fairly soft so can easily be cut to size using hand tools.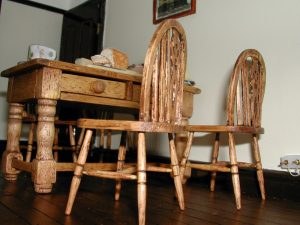 Tools & Equipment
For cutting furniture parts from basswood a sharp knife, steel ruler and cutting mat are generally sufficient to get started. For cutting harder woods a hand or power saw may be preferable. And for cutting irregular shapes a fretsaw would be useful. And a router for cutting decorative edge profiles. And a lathe for turned spindles etc. For serious furniture makers, Proxxon power tools are specifically designed for small scale woodwork. For serious furniture makers, Proxxon produces a wide range of power tools that are specifically designed for small scale woodwork. As you can imagine, making your own furniture may not be a cost-saving option if you decide to invest in a full range of miniature woodworking machinery.